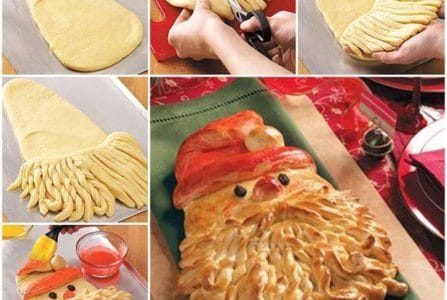 Ingredients:

• 4 to 4-1/2 cups bread flour
• 1/2 cup sugar
• 2 packages (1/4 ounce each) active dry yeast
• 1-1/2 teaspoons salt
• 1/2 cup milk
• 1/4 cup water
• 1/4 cup butter, cubed
• 2 eggs
• 2 raisins
• 2 egg yolks
• 2 to 3 drops red food coloring
Quick Tip: Instead of stirring up homemade dough, start with 2 loaves of purchased frozen bread dough and turn them onto a lightly floured surface. Take a small portion of one loaf and add it to the other loaf, making it slightly larger. Then begin shaping the Santa with the dough following the previous instructions.
Instructions:
You will need a large bowl.
• Combine 2 cups flour, sugar, yeast and salt.
• Heat the milk, water and butter to 120°-130° in a small saucepan.
• Add to dry ingredients. You need to beat just until moistened.
• Beat in the eggs until smooth.
• Stir the remaining flour in to form a stiff dough.
• Turn onto a floured surface.
• Knead until smooth and elastic, about 6-8 minutes.
• Place the dough in a greased bowl, turning once to grease top.
• Cover and let rise in a warm place until doubled, about 1 hour.
• Turn onto a lightly floured surface.
• Divide into two portions, one slightly larger than the other.
• Shape the larger portion into an elongated triangle with rounded corners for Santa's head and hat.
• Divide the smaller portion in two halves.
• Shape and flatten one half into a beard.
• Using scissors or a pizza cutter, cut into strips to within 1 in. of top.
• Position on Santa's face. Now twist and curl strips if desired.
• Use the remaining dough for the mustache, nose, hat pom-pom and brim. Shape a portion of dough into a mustache.
• Flatten and cut the ends into small strips with scissors.
• Place above beard.
• Place a small ball above mustache for nose.
• Fold the tip of hat over and add another ball for pom-pom.
• Roll out a narrow piece of dough to create a hat brim; position it under the hat.
• With a scissors, cut two slits for the eyes and after that insert raisins into the slits.
• In separate small bowls, beat each egg yolk.
• Add red food coloring to one yolk; carefully brush over the hat, the nose and the cheeks.
• Brush the plain yolk over the remaining dough.
• Cover loosely with foil. Bake at 350° for 15 minutes.
• Uncover; bake 10-12 minutes longer or until golden brown.
Enjoy this delicious treat with your family