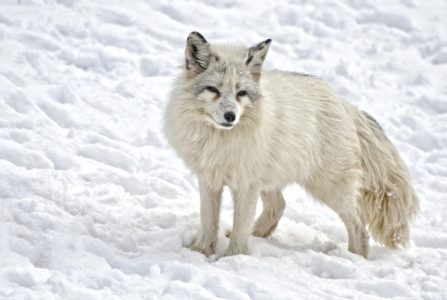 It's quite a long way from Luosto to Ranua, which is the northenmost zoo in the world. So I made myself a packed lunch; a yummy rye bread sandwich with ham and cheese, some fruit and a chocolate bar and set off early.
Living in Lapland, I'm lucky enough to be able to play with the huskies, feed the reindeer and watch the elks as they graze in the countryside yet I have never seen any wolves or a rare arctic fox. So I was excited to see the variety of animals at Ranua Zoo included these and more.
As I wondered around I came across lots of birds; the geese seemed to be talking to each other non-stop but I adored the Great Grey Owl, he looked very wise and seemed to wink at me. Then as I continued, I was lucky enough to come across some really sleepy brown bears, now that it's snowing in Lapland it won't be long before the bears hibernate for winter. In another section were some wild boars, they look rather odd with their big snouts.
I stopped to watch one of the zoo keepers feed fish to the polar bears from an observation platform. They gobbled their treat down in no time at all.
I stopped to chat to the keeper and she invited me to walk with her as she told me stories about the animals. When we came to the Elk enclosure, she invited me to feed one of them. One of the friendly ones came over to the edge of the enclosure and I hand-fed the elk carrots and some pieces of apple. What an experience!
I thanked the zoo keeper & continued on my tour of the zoo. Finally, I saw a majestic arctic fox, standing regally on the freshly laid snow, the perfect end to my day.
Come and join us in Luosto this winter, my pals Snowy Bowy, Tricky Dicky and Speedy Sam can't wait to see you.