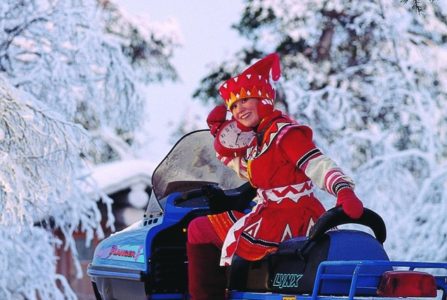 Snowy Bowy, Noisy Nod, Tricky Dicky & I have been very busy helping the other elves make toys in the workshop this summer; but before we make any more, we need to wrap the ones which are finished. Imagine our horror when we went to look for wrapping paper, bows and labels and discovered that the cupboards and drawers were bare!
Santa suggested that because I am so speedy – just like my name – I should go to the big town to buy some supplies. I decided to ask Snowy Bowy to come along too as she is our gift wrapping expert extraordinaire. She loves wrapping presents for all the good boys and girls and couldn't wait to see if there were any new ribbons on sale.
It was a long drive to Rovaniemi, but when we finally hit the shops we spent ages in one store buying metres and metres of ribbon. Snowy Bowy just couldn't decide which ones to choose, she can be really indecisive sometimes. In the end we bought gold, silver, red, blue, purple and green ribbons. Which is your favourite colour? Snowy Bowy sure is going to be busy making bows for your Christmas presents!!!
It was such a sunny day in Rovaniemi that when we finished our shopping we decided to stop for an ice cream to cool down. I don't really like the summer months. I much prefer the arctic winters. I can't wait for the snow to arrive in November, then I can scoot around Luosto and Pyhä on my snowmobile and have lots of fun with you guys. Which holiday to Lapland will you be doing?