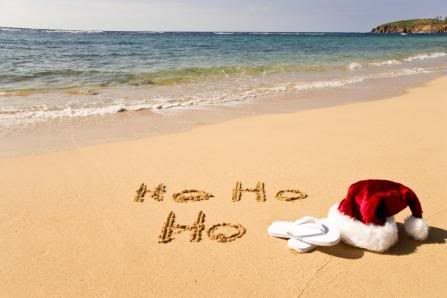 Santa needs a holiday too!
As 2022 drew to an end, Santa and the Elves were exhausted after all the preparations for Christmas & the delivery of children's presents around the world. So much so that they decided it was time for winter sun holiday in January.
When Santa's travelling through the sky, he's lucky enough to be able to see some magnificent destinations from the comfort of his sleigh. While he's not quite a 'silver surfer' just yet, Santa decided to enlist the help of Noisy Nod to search for a holiday on-line.
The Claus' wanted to go somewhere hot, close to a secluded beach & a peaceful spot where they could chill out incognito. So Noisy Nod looked at beach holidays in Australia, Mexico, Brazil and the Caribbean among other destinations.
Santa decided that the flight to Australia would be a little too much after his epic travels on Christmas Eve. Eventually they found a wonderful island with a small secluded beach with pink sand. Noisy Nod showed Santa how to make the booking on-line and 'hey presto' the holiday was reserved. But which island did they choose? Perhaps you'll be lucky enough to spot Santa and Mrs Claus on your travels?
The Claus' are now enjoying their holiday relaxing in the sunshine but are looking forward to returning to snowy Lapland to see Rudolph, Prancer and the rest of the reindeer soon.
Will you be visiting Santa in Lapland this year?